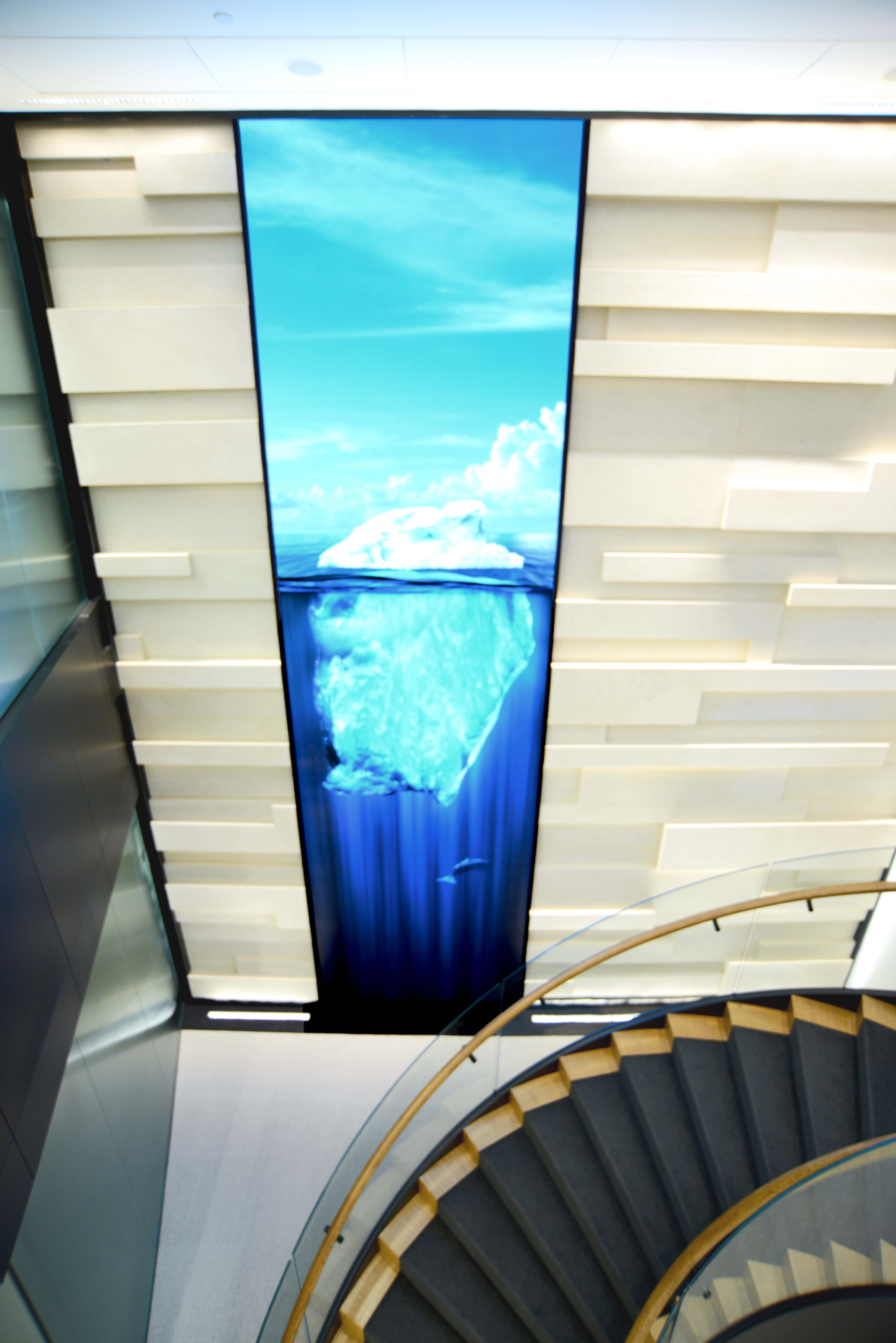 Video walls are systems incorporating multiple components including high-resolution display panels or displays, a processing system, and a controller. Together, these components form a system that acts as a single display, but with complex and powerful possibilities that sets them apart from other solutions. Here we look at some of the benefits video walls deliver and explore some of the many uses:
Great first impression
Video walls allow you to display more content as a wide range of sources can be incorporated and displayed together side by side on a video wall display. These sources include native content, streaming feeds, and video conferencing. This is a great way to bring interest to a reception area, customer experience centre or other large space. The modular nature of video walls means they can be any size or shape and can be curved or even transparent. It is a brilliant medium to tell your brand story and create an exceptional first impression.
In one of our projects, we created what was the tallest video wall in Europe at the time. This was for a reception area that was open up to the next floor, with a staircase. This provided a striking visual impact, for those on both floors simultaneously.
Collaboration
Video walls are not just about creating the right impression or displaying brand content. Video walls can be used as a shared platform to communicate information between sites, and enhance collaboration with remote colleagues and between departments.
In one of our projects, the five screen Multitaction video wall was part of the main meeting room. It allowed their teams to connect globally to share ideas, collaborate and solve business problems using live data across tams and around the world.
Flexibility 
Video walls consist of individual tiles or displays, with a sophisticated control system which allows you to display outside the bounds of the individual video wall panels. This allows content to be displayed across the entire video wall or over sections. The various sources also allow for customisation and increased flexibility of usage.
For one of our clients, the large video wall in the staff restaurant/lounge area provided digital signage and entertainment during the day but could used for presentations for Town Hall events.  In another of our projects, we created a unique hybrid video wall by integrating two solutions – as there was nothing available to purchase that fit the criteria. This great looking solution combined the spontaneity and ease of written work with the saving, clarity and transference ease of digital, in a format that the customer was delighted with as it promoted collaboration, communication and creativity.
Visibility
A video wall also has a much higher possible display resolution than a projected image, optimising visibility for viewers. The total resolution of the wall increases with each panel or display combined with it. 4K video walls are an example of the impressive resolutions a video wall display can achieve.
In one of our projects, the floor to ceiling video wall was sometimes set up to look like a window overlooking Hyde Park, to give visitors the experience of owning one of the apartments in the building it was promoting. Other times, the video wall displayed an engaging mix of bespoke content.
Reliability
There are situations where continuous and reliable performance is crucial. Often, while the source inputs may change content, the video wall itself is never turned off.  This means the video wall components must have the resilience only achievable with professional-grade equipment. For commercial environments, where the video walls are expected to function continuously, we only ever source video wall displays specifically designed for 24/7 use.
For the projects we have done with command and control centres, data centres and VNOCS, this is crucial.
We have a video wall in our secure VNOC, for most of the reasons we have just outlined. In this mission critical setting, clarity of data and data sharing is paramount. Our Service and Support team use this video wall to share and display vital, real time data using sections of the wall to do so. This allows our operators to accelerate their response to any events.
If you are interested in finding out more about our projects, please click here to go to our case study pages.