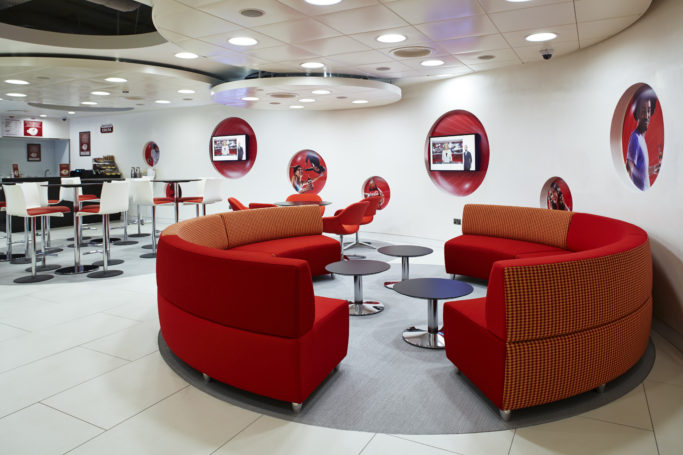 We have been fortunate to have installed a number of Customer Experience Centres over the years. In our experience, there is no typical Customer Experience Centre format, it all depends upon the business and the desired end result. The concept is an area for organisations to showcase their products and/or services whilst fostering customer relationships. For many organizations, from technology to finance to sports teams and everything in between, Customer Experience Centres also act as a catalyst for developing client partnerships. The traditional briefing room has evolved to become an immersive experience connecting clients to the brand.
The size and scope of the client experience room also varies. Often it is a suite of rooms but we have also done large, more open plan spaces, studios and occasionally smaller rooms. Whatever the size or layout of the area, providing a great customer experience is mandatory in these spaces. It helps drive customers to your brand, leading them to purchase, repurchase, and promotes brand loyal. We are  brought into these projects because technology is a strong factor in doing this effectively and widens the audience, catering for remote participants.
It can also help the subtle analysis of client behaviour. For the Customer Experience Centre at Coca Cola Enterprises HQ, the cutting-edge software we installed delivered an interactive virtual shopping experience replicating the customer's experience in store. With the ability to track users' eye movements, the technology enables Coca Cola Enterprises to gain a deeper insight into the specific triggers and barriers that can influence a shopper on their route to purchase. This data driven approach helps them continuously improve their offerings and marketing. To find out more about our work with this client, here  is our case study.
For Rich's, the Customer Experience Centre was built around the tasting sessions, as Rich's are the UK's leading supplier of premium baked goods. For onsite visitors, there is a third dimension to the experience, the delicious bakery smells. Whilst technology has not yet advanced enough to recreate that, brilliant Audio Visual solutions allows the tasting sessions to be experienced in full 4K definition in such a way that everyone has a great view of the process and with perfect audio clarity. To find out more about our work with this client, here  is our case study.
A good Customer Experience Centre is important for service providers too, though the technology has a different focus. For the Customer Experience Centre of a world renowned Management Consultancy firm, the cutting edge technology of the bespoke solutions we designed and installed, delivered a high tech environment focussed on expert led blue sky thinking, creative problem solving and collaboration.
For Saatchi and Saatchi and Publicis, part of the Customer Experience Centre the Audio Visual solutions included one way screens, allowing customer research sessions to be far more interactive for their clients. Clients are able to direct customer research sessions in real time. To find out more about our work with this client, here  is our case study.
In conclusion, a Customer Experience Centre is where clients are taken on a journey through the organisation's solutions, products and/or services. Smart technological solutions not only enhance this experience but also deliver opportunities for analysis and improvement.
If you are considering a Customer Experience Centre for your organisation, contact us  for a free consultation with one of our specialists.
#avexcellence #customerexperiencecentre