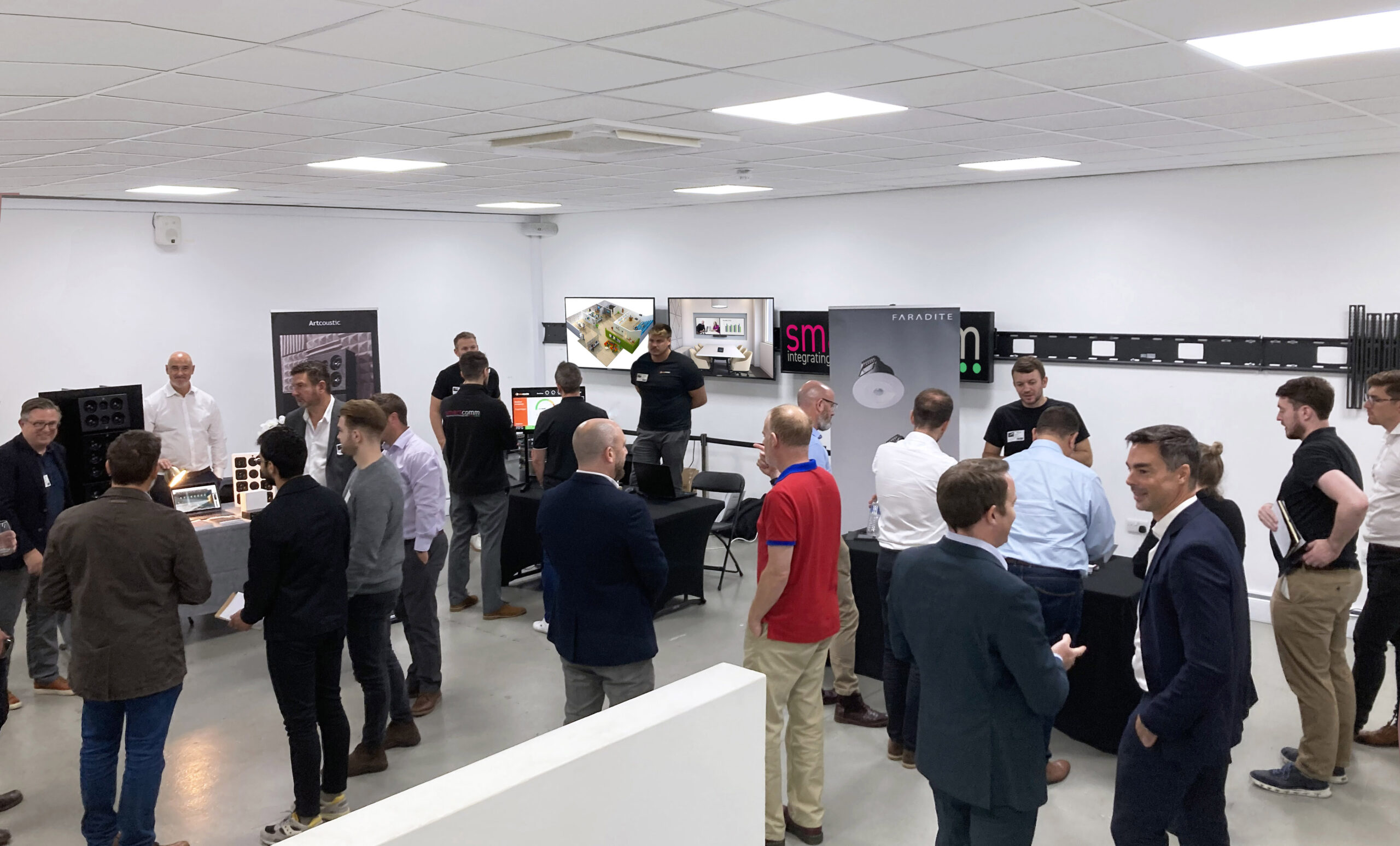 What are Smartcomm Technology Days?
Recently we held our first ever Technology Day at our corporate HQ in High Wycombe. This is a day exploring cutting edge solutions in a relaxed atmosphere. It is a blend of interesting presentations and new technology and a great way to share our love of cutting-edge technology, brilliant solutions and superb design with a select audience. We also see curating and presenting new solutions as an important part of our Service, Support and Managed Services catalogue.
We managed to secure the latest solutions from tech giants Sony, Poly and Crestron plus other suppliers including Onelan, Faradite and Artcoustic.
Is there a Theme?
Yes, our Smartcomm Technology Days will always be built around a theme.  The array of available solutions is vast, by offering a theme our Technology Days become more focussed and relevant. Themes will be fairly broad and will be based around key benefits. The theme for our last Technology Day was optimisation and sustainability. We included systems and solutions designed to optimise room usage, ROI and functionality as well as resource usage and sustainable practices. This meshed perfectly with Sony's new Teos system, which is all about 'Making Spaces Perform.'
Presentations
We complemented the technology being showcased with a couple of presentations. Our Design Expert AJ's presentation delved into how technology allows clients to get the most out of their rooms through flexible usage. The ability to convert a space smoothly and easily, say from dining to conferencing and lounge to event space and back again, increases its value. It delivers a greater return on investment – on both a usage and financial standpoint. There are a number of ways to achieve this flexibility, depending on requirements and budget. These involve a range of solutions and complexity such as lighting to integrated projectors, screens and speakers.
Over lunch (supplied by the same excellent caterer used for the Open at St Andrews and the Dubai Grand Prix), we had our guest speaker, Andrew Gomarsall MBE present. Andrew started off his career as a Rugby Player, playing for England when England won the world cup in 2003 and came runners up in 2007. Andrew is now a sustainability consultant and chairman of N2S, market leaders in IT security and data destruction. He was sharing his views on how to tackle sustainability and zero waste technology goals (our puns, not his). Sustainability is an important topic for Smartcomm, and we are evaluating WEE waste providers. The N2S proposition is very compelling.
Going Local
Another part of our Sustainable approach is to support the local community by using local independent vendors where possible, to deliver the services we required for the day e.g. breakfast was supplied by our local independent café. The caterer supplying lunch was local. Transport to and from the station was supplied by a local taxi company and provisions were bought from the local wholesaler.
If you would like to join us on our next Technology Day, please get in touch. You can send an email to: info@smartcomm.co.uk or go to our contact page here.
If you are interested in finding out more about our projects, please click here to go to our case study pages.