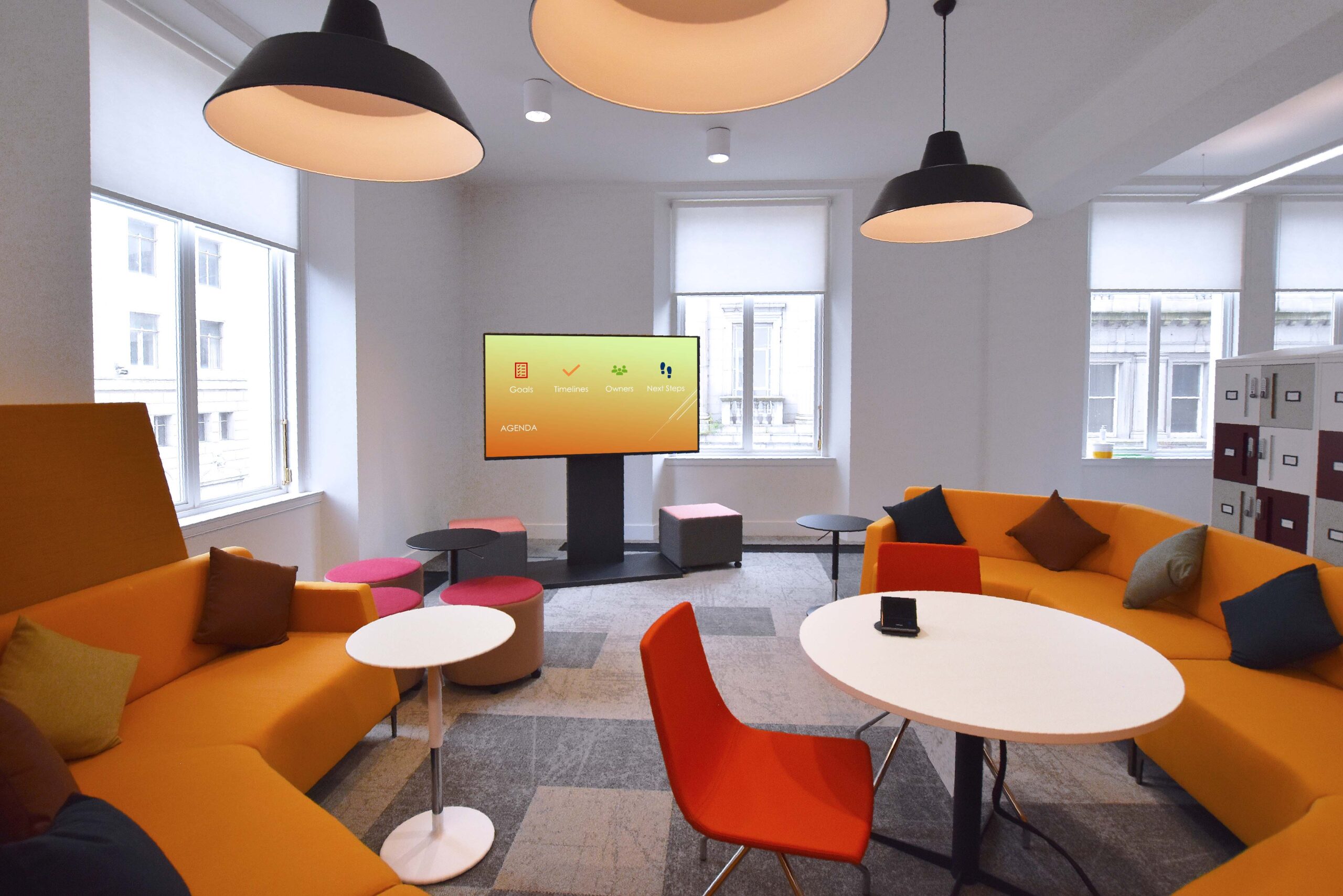 Inspiring Workers back to the Workplace
Hybrid working has many benefits but so does being in the workplace on a regular basis. Here we look at what companies can do to get employees inspired to choose the office over their home. According to various surveys and research, companies need to create a space for collaboration, creativity, productivity, culture, and celebration. They should also consider offering solutions and opportunities staff may not have access to at home.
What are the trends?
One recent survey found:
61% of the companies asked were making changes to the physical workplace by adding or reconfiguring spaces and technology.
40% of the workplace leaders asked were improving their office amenities to include quiet working pods, huddle booths and other things staff might not have at home such as standing desks.
39% of workplace leaders were upgrading or had recently revamped their office environment to include ambient music and social spaces with some even including games in the office.
Companies are creating more collaboration spaces, social zones and meeting rooms. Some are even adding more desks to the office for focussed work. According to the report, the most popular technologies workplace leaders were investing in are:
Collaboration tech and areas for both remote and in situ collaboration – solutions like huddle booths and meeting rooms with interactive displays
Video conferencing solutions – powerful yet easy to use solutions are best and can include BYOD capability and support platforms such as Teams
On-site events technology – solutions offering flexibility to transform spaces like staff cafeterias into areas capable of hosting Town Hall and social events
Room booking and space management technology – which helps people better plan face to face meetings, so their time in the office is more productive
What are the benefits?
Time working in the office has been seen to contribute to commitment, performance and team spirit amongst colleagues. Leaders can mentor and manage their teams and workloads best when they see people more often. There are also the casual channels of communication to consider – the chats at the coffee corner, exchange of ideas while waiting for the lift, impromptu group discussions – which home-working staff miss out on. Workplaces are being updated to support face-to-face and virtual collaboration and ad hoc meetings but also focused work. This is important as it harnesses the benefits of in-person interactions by creating environments where workers can engage most effectively while providing optimum spaces for productive work.
While live, in person meetings are the best way to build relationships, nurture networks and learn from others, research by Maastricht University demonstrated it is also best when tackling complex issues and work that involves problem solving or speed.
People will be genuinely motivated to come back to the office when the experience is positive—and an inspiring workplace is key.
Why not get in touch today for a free consultation and find out how our experts can help you make your workplace more inspiring, friendly and sustainable? If you are interested in finding out more about our projects, please click here to go to our case study pages.