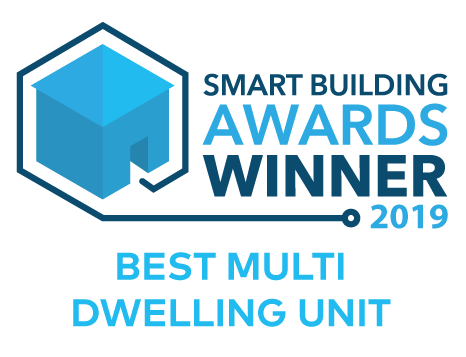 We are delighted to announce Smartcomm won the Smart Building Award (SBA) for the best Multi Dwelling Unit (MDU) 2019.  This was for our work on the stunning Centre Point Residences in London. The presentation was made at the Smart Buildings Awards Dinner, held at the VIllage Hotel in Farnborough. Congratulations to all the other winners and the other shortlisted entries. The competition is fierce, so getting shortlisted is an achievement in itself.
This year the Smart Building Awards (SBAs) was a global event and a celebration of the industry's excellence. The event itself was superbly well organised, well done to the Essential Install Team. The presenters must also be commended. They not only managed to keep the event on schedule and organised, they managed to do so while being entertaining. The event was a great opportunity to catch up and meet with other industry professionals in a more relaxed environment.
What are the Smart Building Awards?
The Smart Building awards, presented by Essential Install Magazine, are trade-only awards. This means that submissions for a Smart Building Award are open to any company involved in the AV industry around the world. There are many categories focussed on both products and projects. For example, the categories include: manufacturers whose products have made a difference; distributors that feel they should be rewarded for the value and support they bring; installers/integrators and system integrators/installers who believe their project should be recognised for excellence.
According to Essential Install Magazine, the aim of the awards is to deliver the most representative, inclusive and up to date recognition in the AV/install world.  It is also to create a recognised brand and seal of industry approval. Each award is judged by an expert panel based on set, category focussed criteria.
For more information about Essential Install Magazine, please go to www.essentialinstall.com