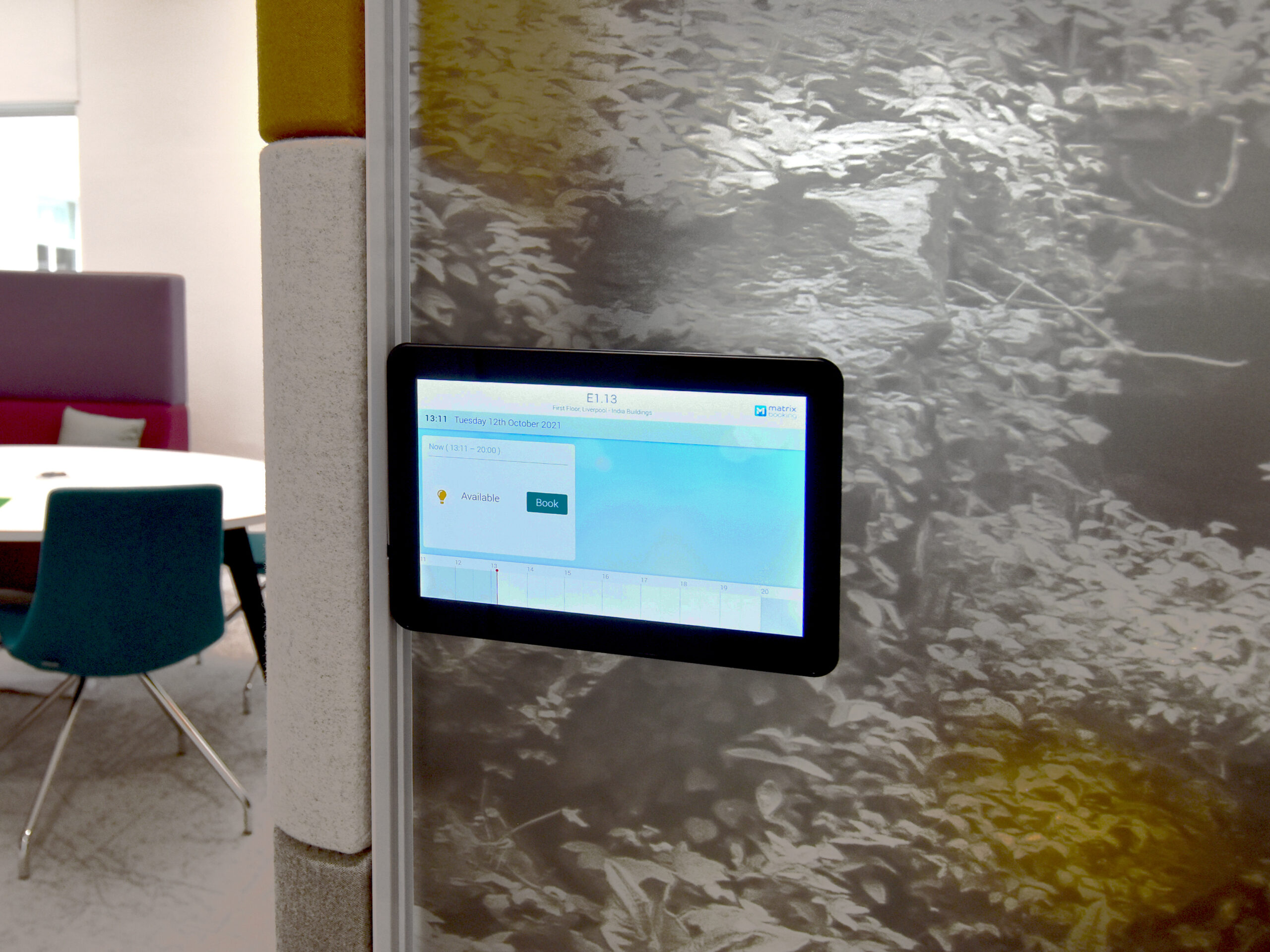 Room booking solutions add value to organisations in a number of ways. Smartcomm has successfully installed a wide variety of meeting booking solutions for meeting areas both large and small, in a very broad  range of environments and industries. From a single panel to a fully integrated web portal system, we can help you find the right solution to suit your requirements and budget.
There are a number of benefits Room Booking solutions deliver:
Optimised meeting room usage

: Office space is used more efficiently and meeting rooms used more frequently. Meeting-room booking panels, linked to centrally managed platforms and internal management systems, enable employees to book meeting rooms on staff laptops, desktop PC calendar, directly on the panels themselves or even on their smartphones. This avoids double booking or disrupted meetings and staff are more likely to use meeting rooms and collaborate if it is made easy and accessible.

More effective meetings:

Different meetings require different amenities. Room booking panels allow employees to book the spaces which match their needs. From collaboration spaces and meeting rooms to  pods and booths. The spaces with right amenities (e.g. video devices, etc) can be easily booked according to the number of people and their work location.

More efficient meetings:

Room Booking solutions drive more organised meetings as they set a cut off time to the meeting, when the room will be used by the next team.

Organised Staff:

Making it easy to book meeting rooms, helps staff plan, co-ordinate and organise.

Save costs:

With meeting rooms in demand, and often at a high cost per square ft, making sure your team can find available space saves time and money and reduces stress. A number of Room Booking solutions can give insights into utilization, people flow and back to office trends. This allows data-driven decisions on space optimisation and enhances employee experience. They can also be programmed to auto-shut off all equipment when not in use, reducing energy costs and waste.
Our experts can help you navigate through the complexities of managing your meeting rooms. We can advise on the most suitable and latest generation booking systems from the world's leading manufacturers. Our expert audio visual system designers and engineers can install the best software and hardware solutions for your requirements to maximise efficiency and ROI.
Why not get in touch today for a free consultation and find out how we can transform your meeting experience? If you are interested in finding out more about our projects, please click here to go to our case study pages.