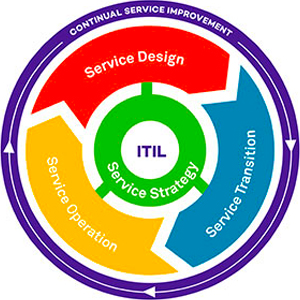 Our Service Desk now operates to ITIL Standards to ensure we deliver value to our customers. It is a framework for managing AV and IT services in a way that creates maximum value. We adopted ITL standards because ITL is the pre-eminent framework for managing AV and IT service delivery around the world and will help us deliver an even better service.
What is ITIL?
ITIL is essentially a series of processes for refining, improving or even defining an AV/IT service lifecycle. It describes processes, procedures, tasks, and checklists which help develop strategy and deliver value. The advantage of ITIL is its scalable and flexible processes and framework.
How does it work?
ITIL is designed to help manage risks, strengthen customer relations, establish cost-effective practices and build stable IT environments for growth, scale and change. It helps to boost efficiency and as a result, the capabilities of processes and people.
There are 7 guiding principles:
How do we use it?
Using ITIL, we look at our Service Management through an end-to-end operating model, focussing on the delivery and continual improvement of our services. For example, our Service Desk provides the single point of contact for our clients. It is at our Service desk that queries, requests and reports are acknowledged, classified, owned and actioned. We see ITIL as a way to enhance the quality of our AV and IT service management.
To find out more about our Service, Support and Managed services, please go here.