What are Flexible Spaces and How do we Create Them?
Essentially flexible spaces are areas which can be used in a variety of ways. We create flexible spaces using AV technology to provide added functionality and adaptability, to meet the requirements of users at any given time. Examples include suites of function or meeting rooms with adjustable room dividers, which can be combined in a number of different permutations. This allows them to be adapted to the meeting, conference, gathering or event size. Another example are staff restaurants, which can be flexibly used for Town Hall style events, group presentations, training areas or as overflow space for other event spaces.
Adding options to an area effectively makes it 'work harder' by increasing use and adding value to the workforce and the organisation. When space is used efficiently, costs are reduced, ROI increased and better outcomes achieved. When teams are provided with access to the right resources, it improves efficiency, productivity and makes it easier for staff to meet objectives.
There is an immediate convenience and cost implication too. After all, why hire a large space to hold Town Hall events, when your AV allows the whole team to gather together in an area in the office and be presented to? Why use a room which can fit 20 people for a 4 person meeting, when you can use rooms dividers and technology to cater for the right meeting size and reduce wasted space?
Here are some of the ways we have used technology to enhance areas to promote versatility, efficiency, collaboration and offer a convenient, flexible resource:
Hidden Technology
Often speakers and microphones are hidden in-wall or in-ceiling, but this can also be done for displays, projectors and projection screens. These can be installed on automatic mounts, which are accessible through the touch of a button or touchpad. We have also hidden technology in bespoke cabinetry for heritage buildings, where the interstitial space was too narrow for modern technology or installing within the ceiling was not permitted.
This is a brilliant way to optimise the use of staff restaurants, receptions or any large area which may have very little use at certain times of the day. These areas can then be used for Town Hall events, training, conferences and other events.
Function rooms in hotels are another great example of where the technology adds value. Installing AV in hotel function rooms extends the options available for hotels to offer clients. The range increases from functions, parties and balls to cinema nights, meetings, conferences, exhibitions, presentations and beyond.
Automation
Excellent programming of touch panels is particularly useful for spaces made up of function or meeting rooms with adjustable room dividers. These can be opened to create larger meeting rooms or event spaces.
Sensors can tell when the room dividers are in situ and automatically trigger the appropriate touch panels and equipment depending on which room dividers are open or closed. This automatically synchs up the displays and audio in the opened event/meeting space. Touch panels facilitate the changes of use by making it intuitive and easy to change settings, access the technology and control the audio-visual equipment. It is easy to limit who has access to the AV through passwords.
Mobile
Mobile units add an extra layer of flexibility, this is where equipment such as displays are kept on wheeled podiums which can be moved around depending on user requirements. This is especially useful in lecture theatres, training rooms, hotel function rooms and collaboration spaces. Staff can easily move equipment around to create the perfect set-up, or add extra displays when necessary.
Overflow
Having the presentation extended to other areas has been a useful addition for many clients. We have extended access to broadcast feeds across entire floors and levels, as needed. This allowed additional flexibility, when extra space and security were required.
Consistency
Standardising the AV set-up across different rooms and having a consistent approach to BYOD makes the whole process as frictionless and easy as possible to kick off a meeting or event. This is especially important with flexible spaces as the technology might be hidden so not obvious to new users.
We have experience in adding flexibility to a number of spaces. If you are considering adding flexibility to an area our experts will be happy to help. We offer a free consultation service, so why not take advantage of our team's expertise and experience today?
You can contact us here.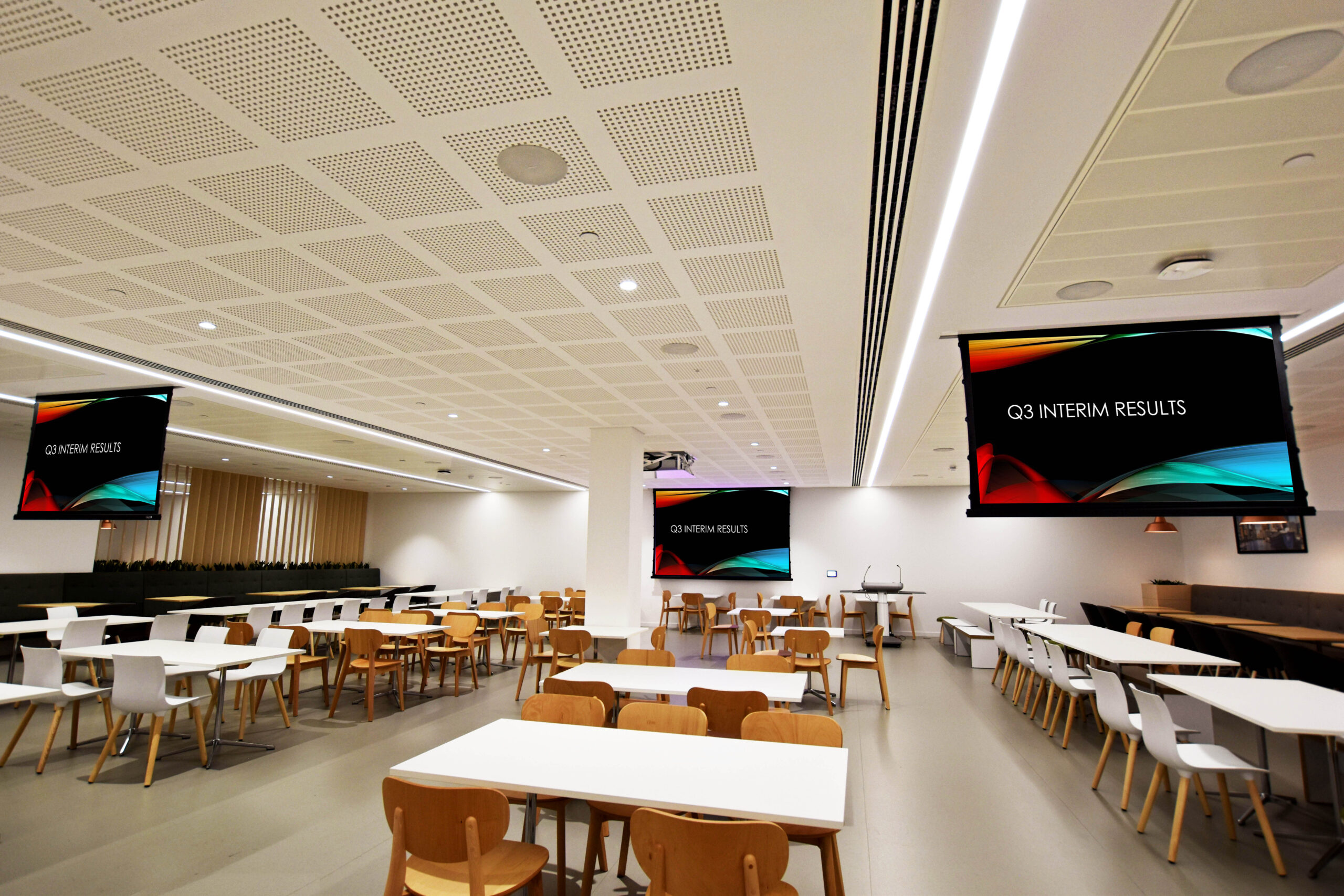 In ceiling projectors and screens allow the staff restaurant to change into a Town Hall event and presentation space
In ceiling speakers deliver the audio for Town Hall events and presentations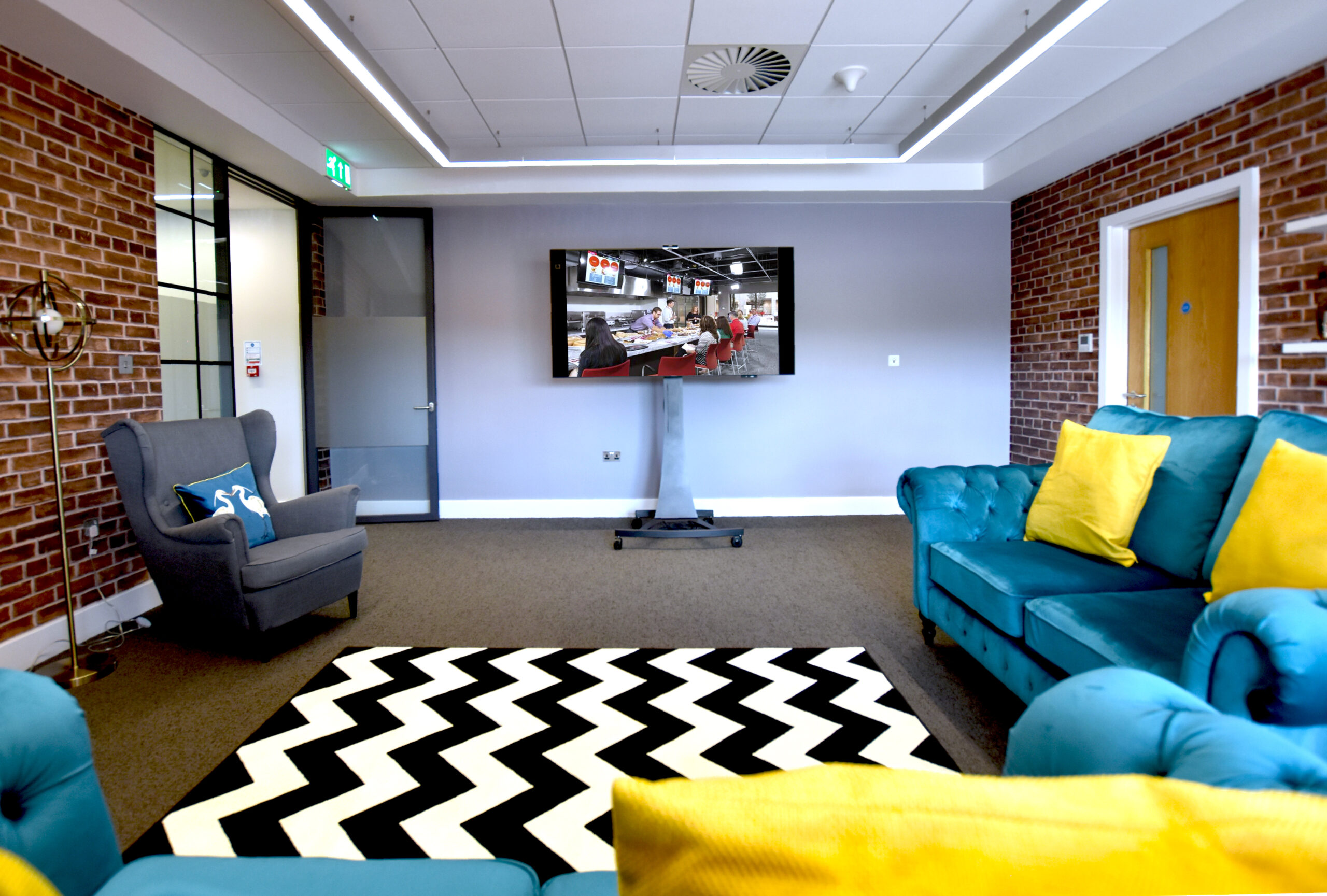 A display on a mobile unit adds presentation and conferencing options to this collaboration space
Sensors tell when the room dividers are open
Control panels automatically adjust the AV control when the dividers are open or closed
In ceiling projector and screen
Displays repeat, when the dividers are open and are on adjustable mounts for clear viewing