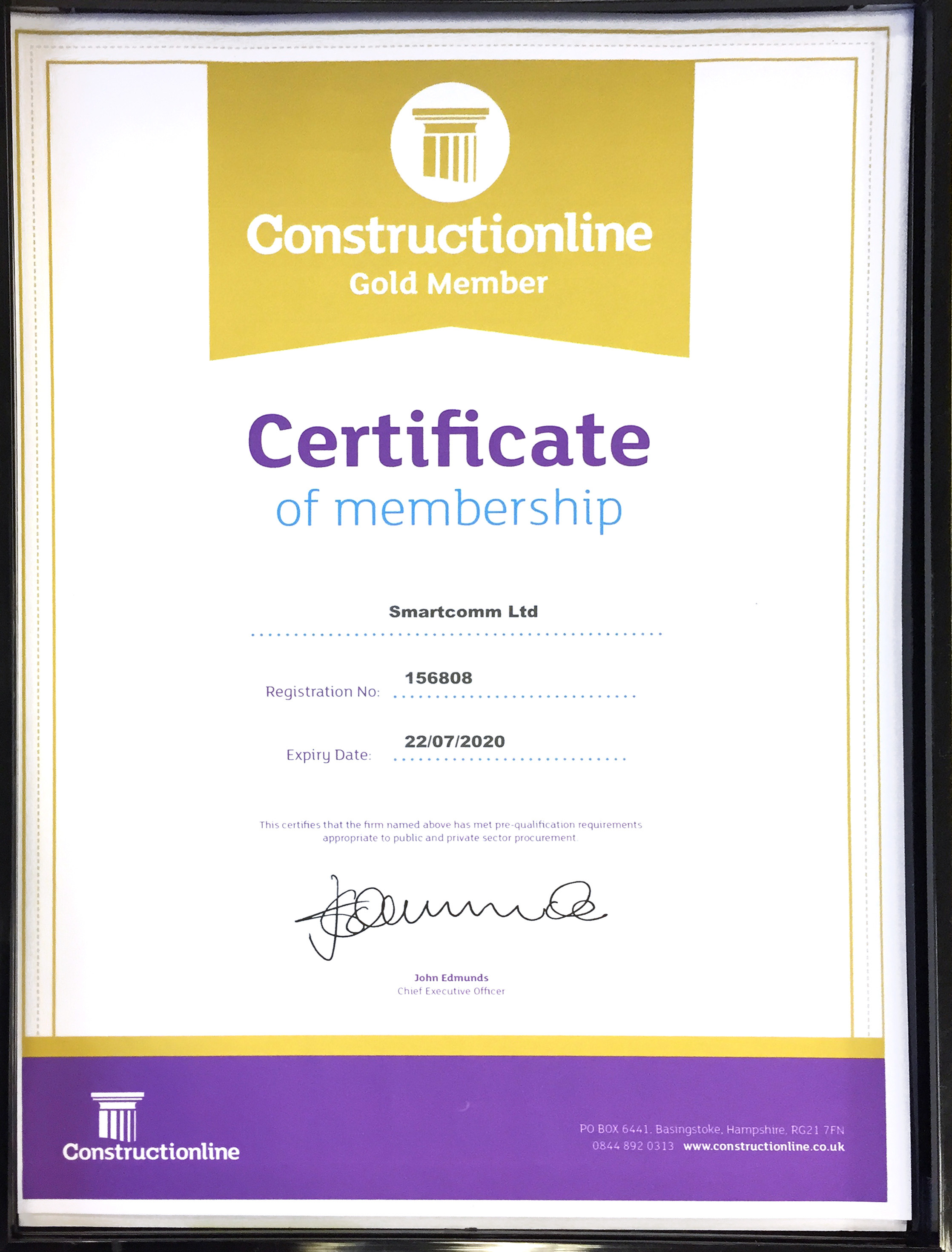 We are delighted to announce Smartcomm has achieved Constructionline Gold Membership.
To achieve gold membership, Smartcomm had to undergo a number of stringent validation checks. We are constantly looking at ways to improve our service, with a view to exceed client expectations.
PAS 91 is a standardised pre-qualification questionnaire which has been developed to reduce the need for suppliers to complete a variety of different pre-qualification questionnaires for different, and in some cases, the same clients. Developed by the British Standards Institute (BSI), the question set has been commissioned by Government and is a recommended common minimum standard for construction procurement.
Updates to PAS 91 have been introduced in 2013 through consultation with professional bodies and trade associations such as the National Federation of Builders (NFB), Electrical Contractors' Association (ECA), Specialist Engineering Contractors' Group (SEC) and Safety Schemes in Procurement (SSIP).
With all public sector buyers needing to pre-qualify construction suppliers; inefficient buying practices can amount to huge amounts of wasted time and money for buyers and suppliers alike.
By delivering a standardised PQQ format, PAS 91 aims to:
Help suppliers understand what information is required from them at pre-qualification stage
Increase consistency between various pre-qualification questionnaires and databases
Help buyers identify suitably qualified contractors
To achieve Constructionline Gold membership, Smartcomm had to pass an enhanced prequalification questionnaire that goes beyond PAS91. This assessed Smartcomm's credentials for environmental management, quality management, equal opportunities, modern slavery act adherence and anti-bribery and corruption policies.
As well as enhanced prequalification, all Gold members are assessed for Safety Schemes in Procurement or SSIP.  The Constructionline team is accredited to assess and award 'Deemed to Satisfy' SSIP certificates for health and safety – something that all construction buyers look for in supplier selection.