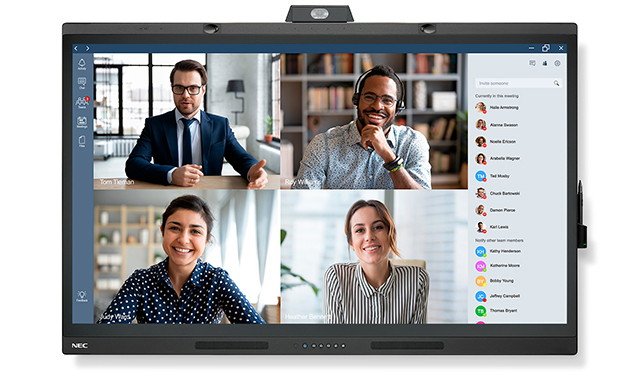 BYOD stands for bring your own device. BYOD meeting rooms or areas (such as huddle spaces) have AV equipment but not a computer. All the AV connects seamlessly to the meeting participants' tablet or laptop.  The hosts simply launches video conference meetings using their own laptop, bridging the room technology to the meeting and remote participants, who then take part .
There are many benefits to BYOD meeting rooms or areas, these include:
Improved productivity

– Employees are more comfortable and proficient with their own devices. They are also more apt to adopt leading-edge features, and they don't have to manage two devices.

Collaboration gains

– employees are more likely to have ad hoc meetings when the meeting areas are easy and convenient to use.

Flexibility

– A BYOD room can have multiple connection options (e.g. wired and wireless) to increase compatibility with different device brands.

Efficiency

– when a meeting includes participants external to the organisation such as clients or those coming for interviews, a BYOD meeting room allows them to connect their device and present seamlessly. Users can simply use the preferred UC platform, which leaves a positive effect on productivity.
There are various solutions that can be used to build the perfect BYOD meeting area. Just one example is the Sharp/NEC's MultiSync Windows Collaboration Display pictured. Users simply connect their own device via the secure USB-C cable to immediately share content and start video meetings. It also has integrated IoT sensors, the display gathers telemetry from its environment such as room occupancy, temperature, ambient light and air quality data. This can be relayed into building management systems to support smart building strategies.
Our team are up to speed with all the various solutions and options available. Why not get in touch today for a free consultation and find out how we can transform your meeting experience. If you are interested in finding out more about our projects, please click here to go to our case study pages.