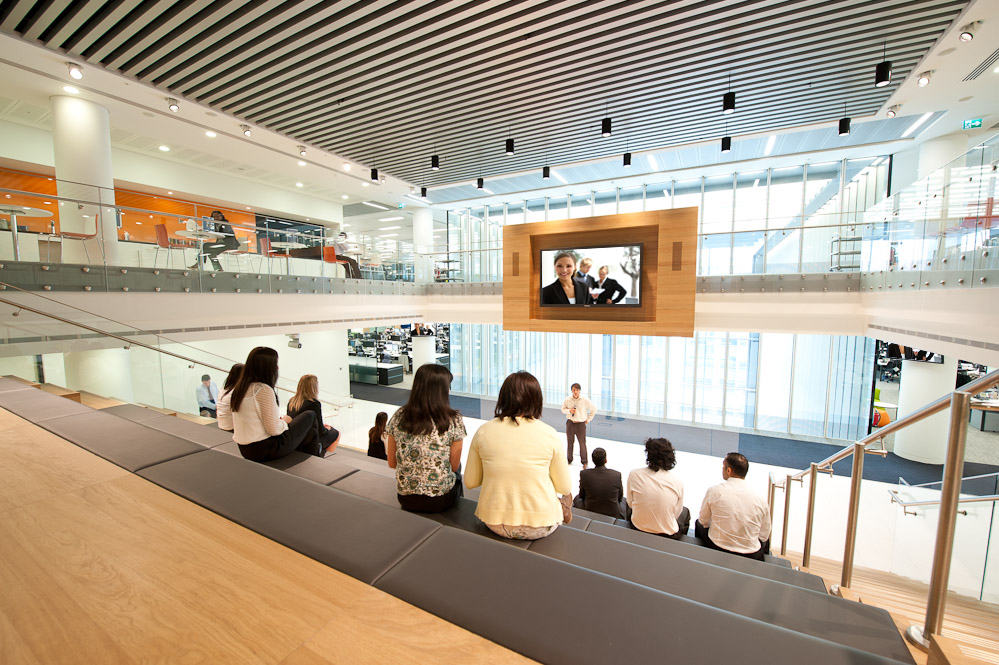 Auditoriums (or Auditoria) are great spaces to convey information to large numbers of people at the same time.  However, the correct integrated Audio Visual technology is vital and with flexible, bright solutions these areas can offer a wide range of functionality including training, performances, presentations, staff meetings, client functions and Town Hall events.
As with any large group of people, even with reduced numbers and social distancing, poor AV will hinder comprehension and ultimately the satisfaction and concentration levels of participants. The latest and most advanced AV solutions, such as quiet projectors, motorised projection screens, display screens, speakers, microphones and cameras will ensure the most effective viewing experience. There are other fun technological solutions like Catchbox throwable and brandable microphones, which can be used to boost audience participation. More practical technology, like repeater monitors ensure there are no blind spots in terms of visuals for the audience.
We can help you design, install and maintain your Auditoriums, using technology to ensure your audience is engaged and can clearly hear and see what is being presented.  So, if you or your company is looking to update or instal an auditorium, why not call one of our experts today for a free consultation?
If you are interested in finding out more about our projects, please click here to go to our case study pages.